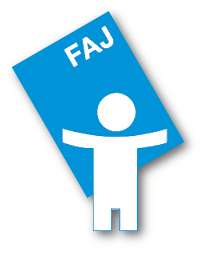 Mission
The Antillean Youth Federation (FAJ) is an umbrella organization. As per its articles of incorporation its objective is to promote effective youth care on Bonaire, Curaçao, Sint Maarten, Saba and Sint Eustatius. Therefore, FAJ stimulates, initiates and carries out activities that lead to a thriving youth welfare and better living and development conditions for children and youth.
Vision
FAJ formulated its own vision on youth (development) a few years ago. This document is reviewed annually and is still relevant. In essence, FAJ chooses the following approach for its work with youth:
FAJ caters to all youth between the ages of 0 to 24.
FAJ offers this target group guidance and support based on their own needs and (youth) perspective.
FAJ chooses a positive approach to the child or young adult, regardless of the (vulnerable) situation this person may find him/herself in.
FAJ chooses an integrated approach, where the total environment of the child or young adult is included and in which positive relationships are consciously strengthened and activated.
Core tasks
The mission of FAJ entails of the following tasks:
Following, testing and advising on youth policy.
Analyzing the situation in the field, including carrying out or contributing to (field) research.
Supporting member organizations in their daily tasks and the development of specific projects.
Initiating and coordinating major projects and programs.
Organizing various approaches of expertise development.
Encouraging youth participation.
Realizing effective practices of cooperation in the field.
Approach
To implement its mission and key tasks, FAJ focuses on activities and projects that are pragmatic, solution-oriented and proactive in their approach. These activities and projects not only focus on vulnerable youth, but on all youth.
Functions
FAJ has several  functions. As an umbrella organization it targets effective youth care which is briefly explained by the following principles:
Improving the quality of the range of activities in the youth field.
Strengthening the cooperation between organizations in the youth field.
Matching between (member) organizations and potential funds and sponsors in the youth field.
Supporting the policies of the government and (member) organizations in the youth field.
Stimulating the expertise of (member) organizations and other stakeholders in the youth field.
Sister organizations
FAJ is an umbrella organization for effective youth care with affiliated member organizations in  Curaçao, Bonaire, Sint Maarten, Sint Eustatius and Saba. FAJ also maintains contact with its Aruban sister organization 'Assosiashon di Trabou pa Hubentut Arubano' (ATHA) and the Youth Council in St. Maarten . Relevant activities, initiatives, studies and conferences are coordinated with this sister organizations  and, where necessary, effectively collaborated with.
Annual Meeting
As the umbrella organization for youth, FAJ organizes at least once a year, an annual meeting for all of its member organizations, from the different islands. Representatives of all member organizations are invited to the annual meeting.
At this meeting, FAJ accounts for the work done, finance and presents its financial statements and annual report. In addition, new member organizations are introduced; activities within the youth field coordinated and the needs of members inventoried.
Job openings
FAJ has no job opening at the moment . Open application letters for possible internships and freelance activities can be sent to bureau@faj.cw.
Documents